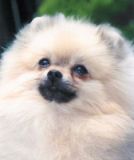 EBERDENE POMERANIANS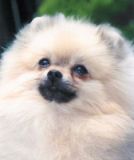 Registered at and Member of the Kennel Union of Southern Africa
Pomeranian Grooming
Coat:
The coat is made up of an undercoat and an outer coat.

The former is soft and fluffy; the latter is long, straight and harsh, and covers the whole of the body.

The coat is very abundant around the neck and the fore part of the shoulders and chest, forming a frill that extends over the shoulder.

The forequarters are well feathered to the hocks.
Maintenance:

It needs regular attention to keep it clean and attractive.
Thorough brushing,

checking nails,

cleaning ears and teeth,

and trimming should be done once a week.

Males cast their coats once a year and females twice a year ( usually after a season ) ending up looking quite sorry for themselves.
Don't worry, it will grow back, sometimes better than ever.
Equipment needed:
Slicker/pin brush, medium - toothed metal comb, scissors, cotton buds.
Breed tip:
Brush against the lie of the coat to give the Pomeranian its round pompom appearance.
Brush the coat with the slicker / pin brush. Work from the top of the head, layering the hair as you go and making sure you reach skin level.

Next , work through the coat with the comb. If you encounter any tangles, try to tease them out gently using finger and thumb or a comb. If you need to use scissors, cut down the length of the knot - not across - to ensure minimal coat loss.

Blow - dry the hair. Work from the head, layering the hair as you go. Brush as you dry.

Check the dog's nails and clean its ears and teeth.

Trim the hair with thinning shears or scissors from the hocks in order to give a smooth finish.

Trim the hair under the feet where necessary, tidying around the feet to give them a catlike appearance, also cuts down on dirt trekked into the house.
The hair around the anus should also be trimmed for hygiene reasons.
Contact Info for Pomeranians:
Tel: 084 870 4217 (Owen)
Web Page Designed & Maintained by
Eberdene Pomeranians
© Eberdene Pomeranians 2005-2009